Strawberry and Peach wine slushies are the ultimate summer cocktail recipe! A sweet wine slushie mixed with fresh fruit, you can even make these ahead of time and keep in your freezer!
We're a huge fan of hosting friends and family- for BBQs, holidays, football games (it's almost time for the Big Game)!! They all give me a chance to whip up some new recipes!
There are a few things I try to keep in mind when I'm creating or looking for new recipes. Especially if I'm making them for large groups of people!
They have to be easy! If I'm preparing 5 or 6 recipes for a party, each recipe doesn't need to have 56 steps!
They have to be affordable. I enjoy the party a lot more if I know I didn't break the bank to get there.
They have to taste great! Duh, right? But I don't just mean they have to taste good, I mean great! Why go to the trouble of buying food and preparing it, if isn't going to be fantastic?
They should be filling. If you prepare recipes that are filling, then you can get away with making less!
They can be made ahead of time! The key to being relaxed right as your guests start arriving!
It's a huge bonus if they also look great enough to almost look like decoration!
Luckily for you guys, the recipe I'm sharing today fits all those bills! Plus, this one serves double-duty as a beverage and a dessert!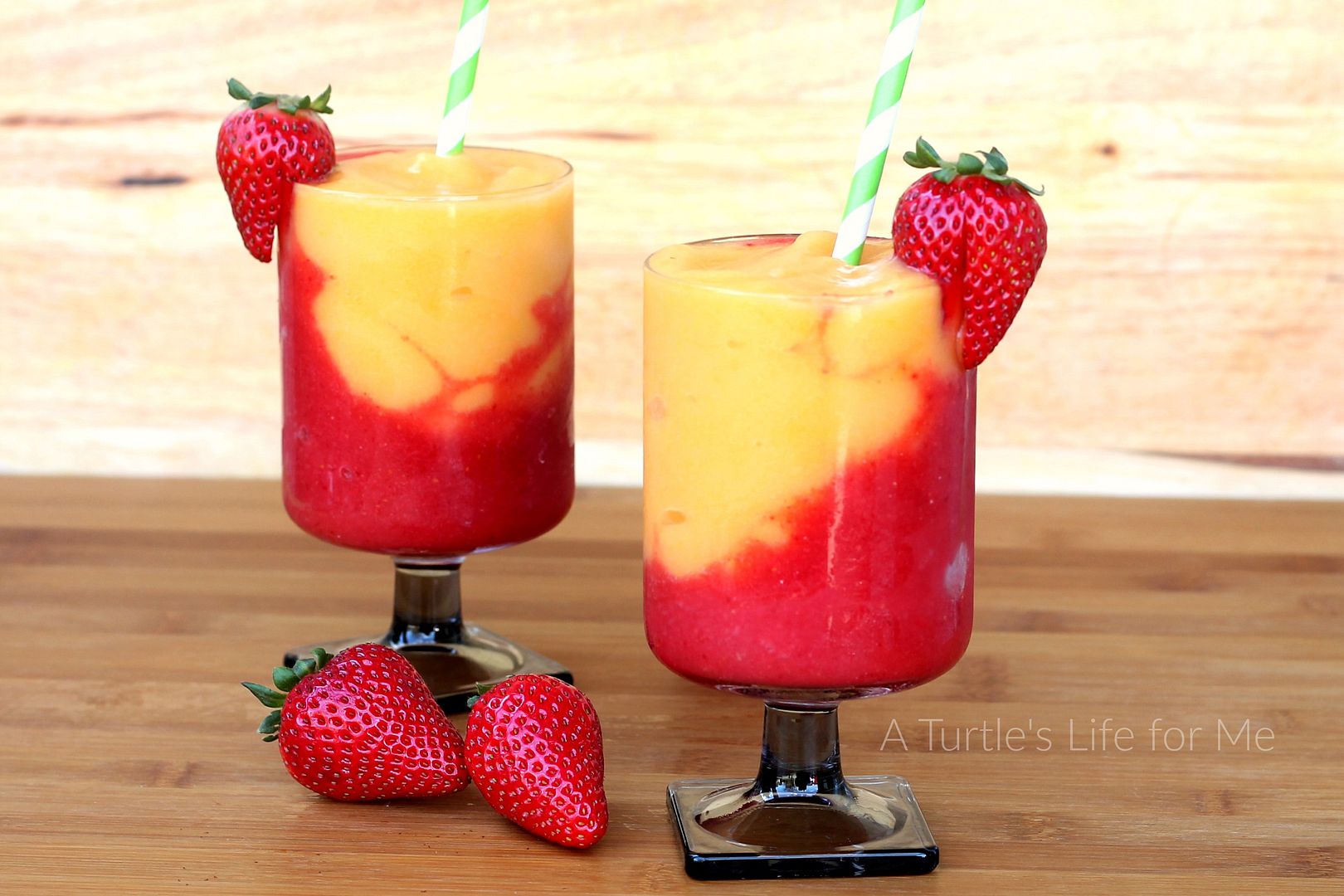 How to Make Wine Slushies
It really couldn't be easier to make this wine slushie recipe. 3 ingredients and a blender… that's it!
I prefer the dark color on the bottom of my glasses so I start with the strawberry wine slush. But, honestly, that's just a quirk of mine and you can do this in whatever order you prefer!
Ingredients for frozen wine slush:
2.5 cups frozen strawberries
2.5 cups frozen peaches
1.5 cups Chardonnay, divided
Place your frozen strawberries in your blender and add 3/4 cup Chardonnay. Blend until smooth and slushy. Pour evenly among 4 glasses.
Rinse out your blender pitcher if you want a nice clean peach slush without any strawberry residue.
Then add your frozen peaches to the blender with the remaining 3/4 cup Chardonnay. Blend till slushy and divide among your glasses. Enjoy!
How to Get Angled Wine Slushies
You can just pour into your wine glasses in layers, but I wanted to take it a step further and get the angled look! These are so pretty and colorful, that they almost double as the centerpiece for your table!
To get the angled look, place your glasses in a loaf pan at a tilt.
Pour in the bottom layer.
Then carefully pour the second layer over it, using a spoon to gently push it in and towards the bottom if needed. Once the glass is full, you can remove from loaf pan and stand upright. This technique works better the thicker your slushie is, so if you thin out your slushie with more Chardonnay (which also isn't a bad thing!), your layers might not stay as distinct.
I popped an extra strawberry on top for garnish and the ever-fun paper straw! They're so much cheaper than you would think and they add the perfect accessory to your drink!
Can You Make Frozen Wine Slushies Ahead of Time?
I made these Strawberry and Peach Wine Slushies two weeks ago to test them out before a party. I had one immediately after making it (delicious!), and then I froze the rest to test out how well they would defrost.
After a week of being frozen, I scooped about 3/4 cup out of each flavor. I let it thaw for about 5 minutes or so, then filled each glass. They tasted great and I love having it in my freezer now ready to go! Frozen wine slush is now a permanent staple in my freezer!
Tips for Making Frozen Wine Slush
This is a great recipe to customize too according to your tastes! You could try any combination of fruits: blueberry and peach, strawberry and mango, raspberry and peach, etc.
You can also switch up your wine flavors! Chardonnay is a favorite of mine, but there are lots of delicious options to choose from: Moscato, Merlot, Sauvignon Blanc and more. If you can find a peach wine or strawberry wine, that would be even better!
Strawberry and Peach Wine Slushies
Easy fruit wine slushies made from chardonnay and frozen fruit are the perfect summer drink!
2.5 cups Frozen Strawberries
2.5 cups Frozen Peaches
1.5 cups Chardonnay (divided)
In blender, combine frozen strawberries with 3/4 cup Chardonnay. Blend until
smooth. You can add more Chardonnay if you don't want it quite as thick.
Pour strawberry wine slush evenly between 4 glasses. Rinse out pitcher.
Add frozen peaches and remaining Chardonnay to blender and blend until smooth. Divide among 4 glasses and serve!
If you would like to achieve the angled look, place wine glasses in a bread pan at an angle and fill from there.
If you are making the wine slush ahead of time, store the peach and strawberry wine slushies in separate containers.
This was originally posted 2/1/2016 and updated on 8/30/2019.
Looking for more easy recipes that are delicious? Check these out!
Patriotic Wine Slushies with Raspberries and Blueberries