This is a Sponsored post written by me on behalf of Carton Smart for SocialSpark. All opinions are 100% mine.
I've got an incredible recipe to share with you today, but even bigger than that is a HUGE giveway, so make sure you bear with me until the end! I know I get wordy, but it will be worth it!!
We are officially in the beginning stages of the holiday season. Far and away, my absolute favorite season! I love the changing of decorations, the constant flurry of family activities, the Christmas music, trying new recipes… I love almost all of it.
Notice that little word in there, "almost". There's one thing that gets to me every year and seems to bother me more the older I get. The amount of trash this house produces. It's mind-boggling. I feel like we do pretty well the rest of the year, and only have 1 or 2 bags a week to set at the curb. But during the holiday season, it's almost as if we get lazy and, of course, the obscene amount of packaging that everything comes in doesn't help either. The bigger problem is that I don't think it's just our household that has multiplying trash this time of year. Can you imagine if everyone made a conscious effort to reduce the waste coming out of their house?!
Tetra Pak is one company that's trying to help us achieve that goal! By encouraging consumers to Become Carton Smart, they're encouraging us to make small, smart decisions that add up to a collective positive impact on our environment. This holiday season, Tetra Pak is hoping to inspire people to make the environementally-correct decision when stocking their pantry for all those holiday meals they will be preparing!
Tetra Pak cartons are a perfect example of how you can make small choices every day that add up to helping protect and respect our environment.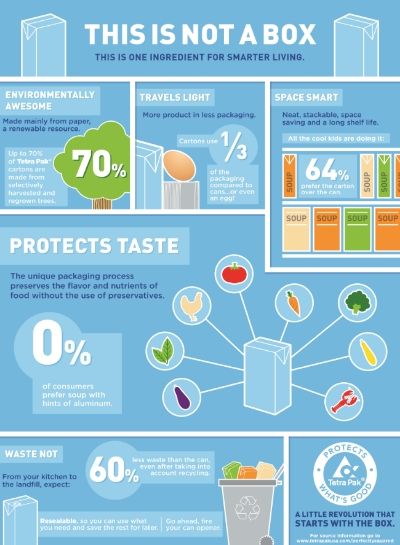 Since I'm in full-on Thanksgiving mode right now, pumpkin and cranberry was all I had my mind on!
Pumpkin Whoopie Pies with Cranberry Filling
Cakes:
1 stick butter, melted
1 cup packed light brown sugar
2 eggs
1 cup Pumpkin Puree (I used Pacific Foods Organic)
1 1/2 tsp. cinnamon
1 tsp. nutmeg
1 tsp. baking powder
1 tsp. baking soda
1/2 tsp. salt
1 2/3 c. flour
In a large bowl, whick melted butter and brown sugar together until smooth. Whisk in all the remaining ingredients except the flour. Using a rubber spatula or wooden spoon, fold in the flour.
Preheat oven to 350 and line cookie sheets with parchment paper. Drop the batter onto the lined sheets using an ice cream scoop. Bake about 10 minutes or until the top springs back when you touch it. Cool completely.
Cranberry Filling:
8 oz. cream cheese, softened
1 stick butter, softened
1/2 cup jellied cranberry sauce (I used Pacific Foods Organic)
4-5 cups powdered sugar
Using an electric mixer, beat the butter and cream cheese together. Add the cranberry sauce until well blended. Add the powdered sugar 1 cup at a time until it reaches the desired consistency.
Spread the flat side of 1/2 of the cookies with the cranbery filling and then top with another cookie.