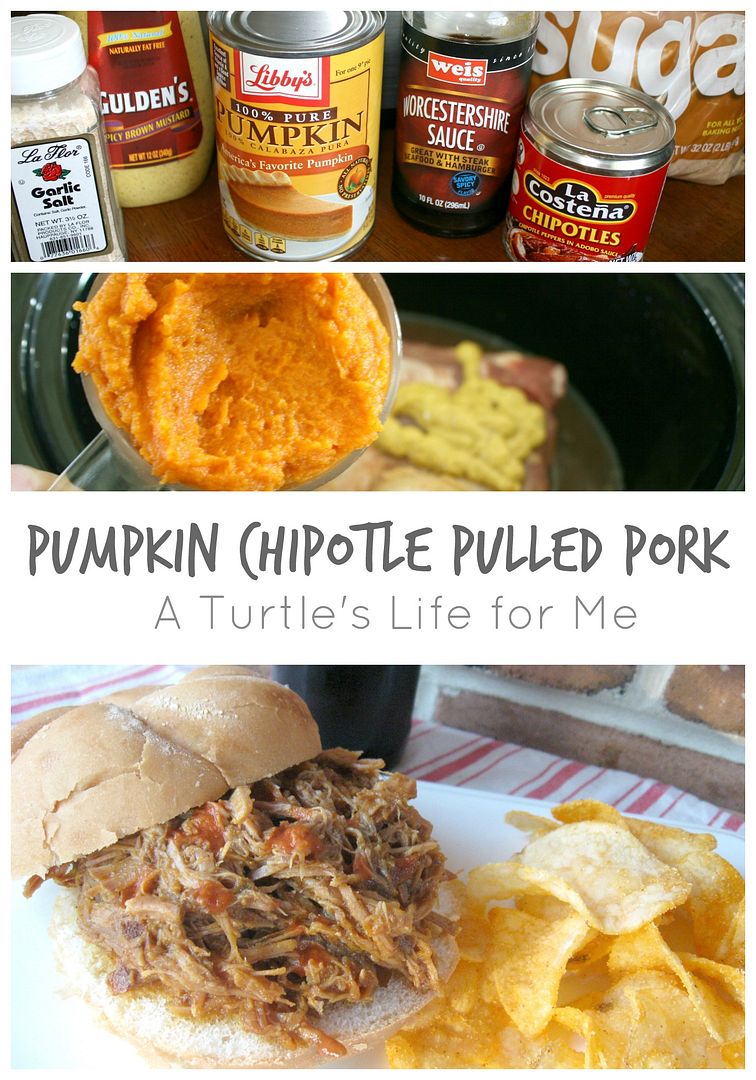 Pumpkin Chipotle Pulled Pork Sandwiches!!
A total mouthful, I know. A mouthful of awesome flavor explosions that is!
We have had a week or so now of decent, almost warm weather after the winter that wouldn't quit, and it has me itching for summer foods! One of our favorites is a pulled pork sandwich! I have lots of variations of sauce I use, but I thought I'd try something new this time!
I've been trying to incorporate more pumpkin into our menu year-round, because it has so much fiber and Vitamin A, and, well, it just tastes good! So I thought I'd give it a shot with some pulled pork and it blew me away!
It all started with me pulling a can of pumpkin out with the rest of my pulled pork ingredients and my husband looking at me skeptically. What a dear. When will he learn to just trust me and roll with it?! I love the smoky depth of flavor that pumpkin can add to a dish and I knew I wanted to add some chipotle peppers to complement that flavor and give it a little zing.
Guess what?? My husband, aka Skeptic #1 for the sake of this post, loved it. I'm talking full-out-eat-it-5-days-in-a-row LOVE. He already told his friends that we will be having it at our next BBQ and has decided said BBQ will be sooner rather than later. My husband is NOT a party planner, so this is big stuff right here, people!
Pumpkin Chipotle Pulled Pork Sandwiches!
Prep time:

Cook time:

Total time:

Ingredients
3 lb. pork roast
3/4 cup 100% Pure Libby's Pumpkin
2/3 cup brown sugar
1/3 cup apple cider vinegar
1 tsp. salt
1 tbsp. Worcestershire sauce
2-3 Chipotle peppers, chopped
kaiser rolls
Instructions
Place the pork roast in a slow cooker. Add the pumpkin puree, brown sugar, apple cider vinegar, salt, Worcestershire sauce, and chipotle peppers. Mix everything together and spread over the top of the pork. Cover and set slow cooker to low. Cook for 7-9 hours, or until pork is tender and shreds easily.
Using two forks, pull the pork apart until it is well shredded. Stir the shredded pork back into the sauce. You can spoon onto your rolls and eat now or cover it back up and let it thicken for 30 minutes or so.
You can just see all the flavor, can't you??

Here's the best part! There's so much that Pumpkin Can do! You'll still have some of your pumpkin left after making this recipe, so tomorrow when you're making some oatmeal for breakfast, stir in a spoonful of pumpkin! Making a smoothie for lunch?? Plop in some healthy pumpkin!

Do you have some great uses for getting more pumpkin in your meals? Hop over to the Pumpkin Can website to share your tips and you could be entered to win some great weekly prizes!

This is a Sponsored post written by me on behalf of Libby's for SocialSpark. All opinions are 100% mine.