Ahhh, the classic Philly Cheesesteak! They're as beloved as the Liberty Bell, running up the Rocky steps and hearing your neighbor yell, "I shoveled that spot so it's mine!".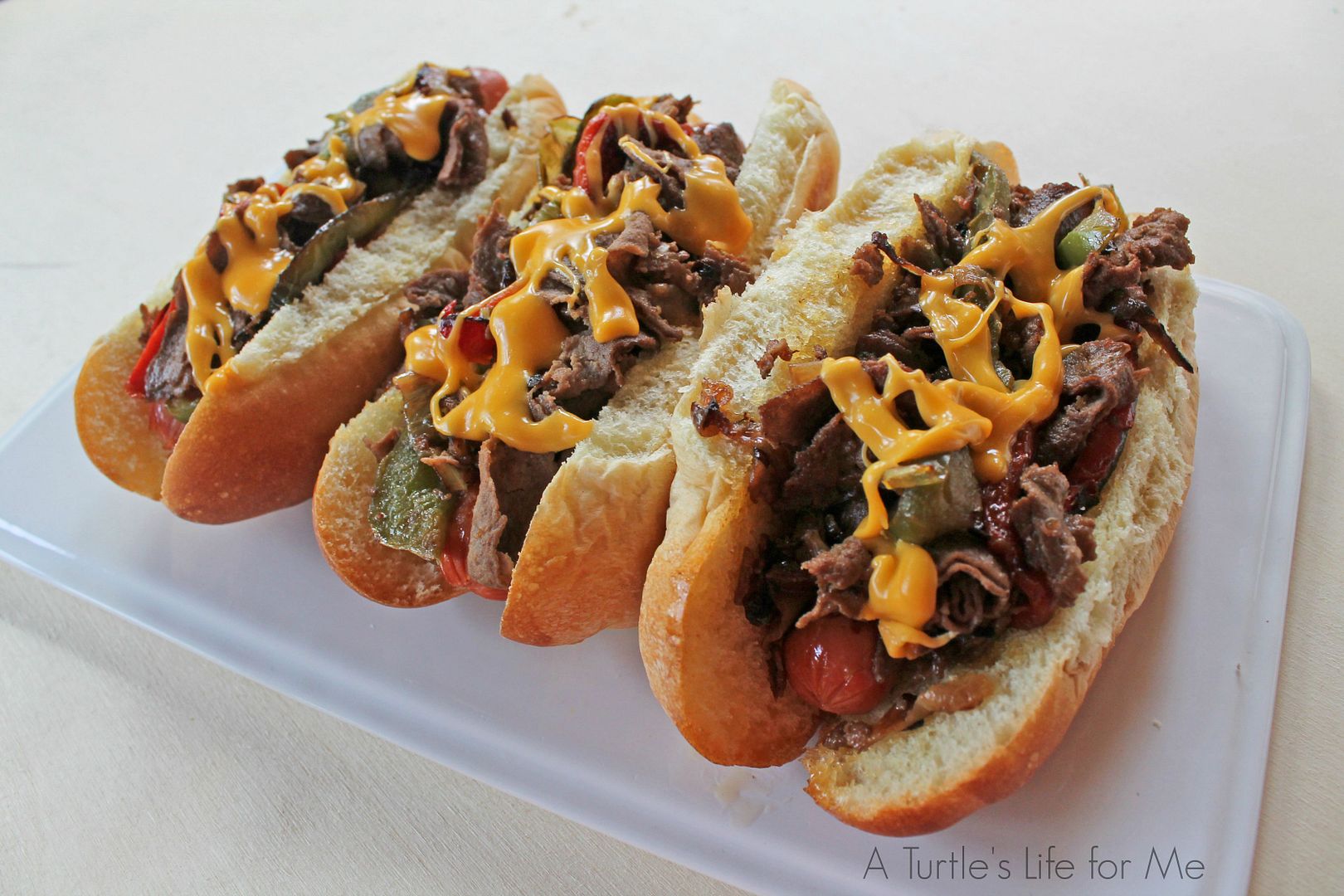 Philly is serious about their cheesesteaks, and we're going to kick it up a notch today with some Philly Cheesesteak Hot Dogs. Nobody roll your eyes just yet. They are 13 year-old boy approved according to a gang of them that was in my kitchen recently.
Here's what you have to understand, acknowledge and accept about our Philly cheesesteaks… people like the Whiz.
Cheese Whiz that is. If you're not from around here, no worries. A lot of places will let you sub American or Provolone now. For natives, you ask for your cheesesteak "whiz wit". Got it? With Whiz and with fried onions. Whiz wit. Totally makes sense.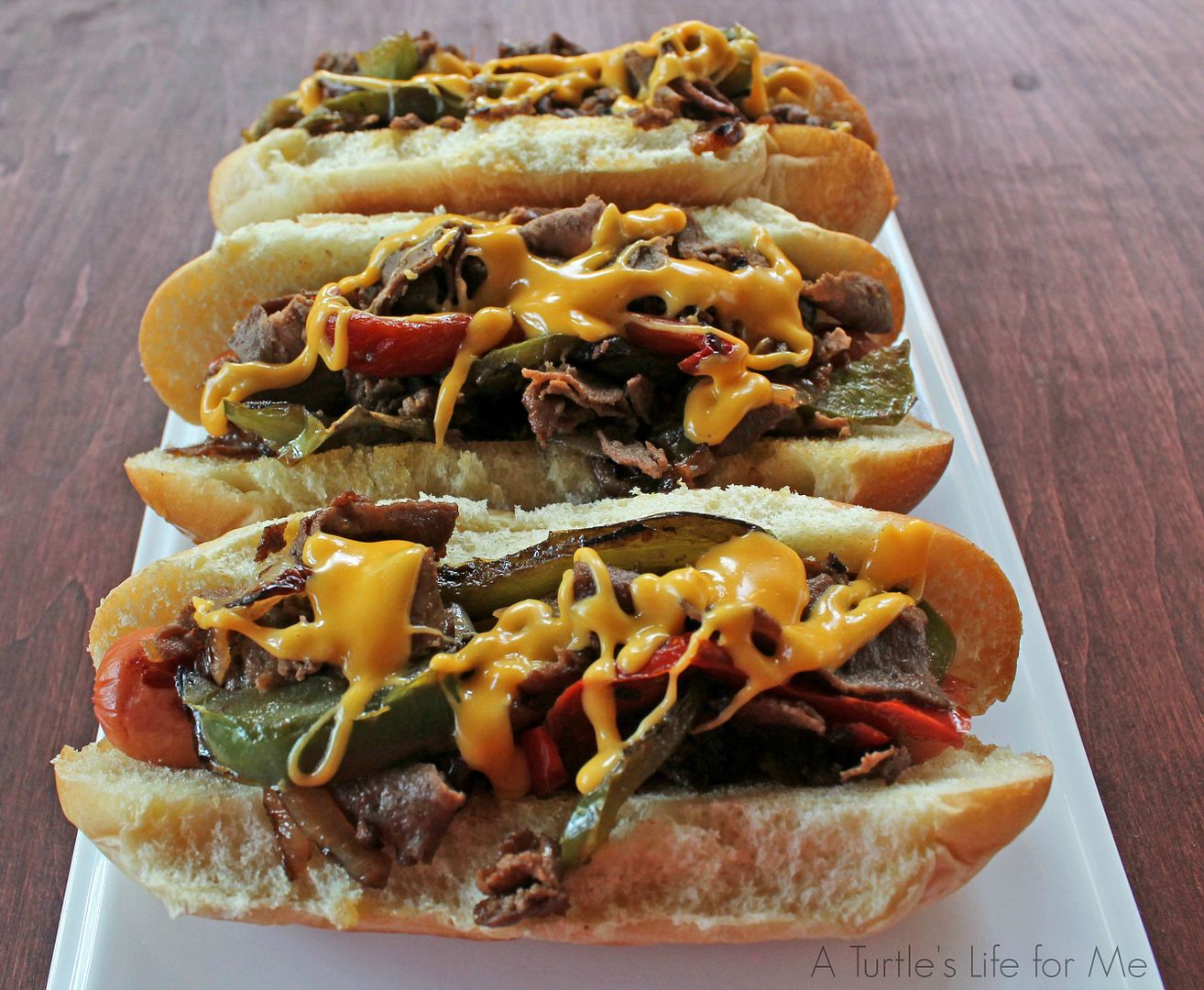 You know what else city folks seem to enjoy? Hot dogs! Hot dogs from the corner stand, hot dogs from the ballpark… doesn't seem to matter where you get it as long as it ends up in your mouth. So why not put them together, right?
We like ours with peppers and onions and a hot dog that fits the size of the bun. Nothing more disappointing than having 2 bites of nothing but bread on either end of your dog! Another key factor in the Philly cheesesteak is the drip factor. You should have grease dripping down your arm while you're eating. The drip factor cannot be overlooked.
So we fry up our peppers and onions with a little bit of vegetable oil and a couple pats of butter.
Don't forget your crusty rolls! Crusty rolls help soak up all that drip factor I told you about! I'll be honest, though, my kids prefer softer rolls so we often skip that part. Oops.
Grill up your hot dog, and then layer everything on top and chow down!
Philly Cheesesteak Hot Dogs
Ingredients:
6 Bun Length Hot dogs
6 Rolls
12 oz. Rib-eye roast, ask your butcher to slice it thinly
1 green pepper, sliced thinly
1 red pepper, sliced thinly
1 onion, sliced thinly
2 tbsp. butter
1 tbsp. vegetable oil
Cheese Whiz, heated up
Directions: In large frying pan, heat oil and butter. Add peppers and onions and fry till soft and starting to brown. Add steak and continue frying until completely cooked through. Grill hot dogs. On a roll, place hot dog, steak and pepper mixture and then then drizzle hot Cheese Whiz over top.
Makes 6 hot dogs.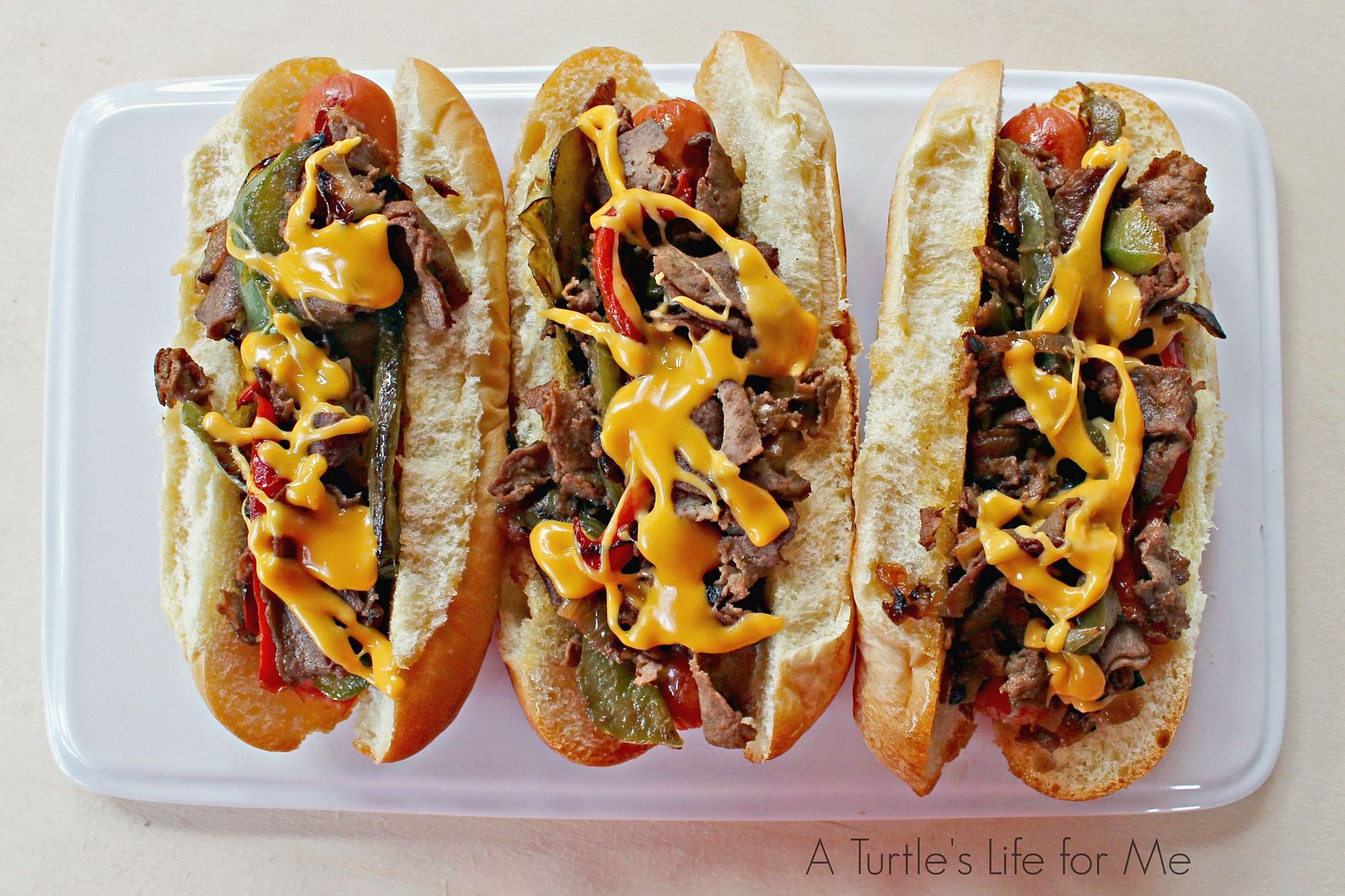 Look how easy these pretty boys are to make:

Save
Save