I'm a firm believer in making the space you live in beautiful. I think most people would agree with me when we're talking about the main living spaces- bedrooms, kitchens, living rooms, etc. But I'm also talking about some of the spaces that people tend to forget about even though you might use that space every day- the insides of closets, pantries or the landing at the top of your steps. These aren't usually the spaces people think of to decorate, but I'm working with Lowe's for today's post to show you that they should be!
Not only am I excited to share my landing makeover with you guys today because I love the after, but I'm also excited because it's a super affordable and low-effort project that makes a huge impact!
We've lived in this house for a little over a year, and our landing has pretty much been ignored. But if you stop to think about how many times the 4 of us walk through the landing to go up or down the steps, it's probably one of the most used spaces in our house!
So why did I let it look like this for the past year…
There is absolutely NO character in this before picture! Plain white walls, no decorations and doors that were builder's beige. Blech.
But after a quick trip to Lowe's to pick up paint and supplies, we now have a space the blends in perfectly with the rest of our house! And this is only 2 days' worth of work!
We need to stop for a minute here to talk about these doors. Doors in general, actually. People have a tendency to ignore doors when they're decorating and it always makes me want to weep a little inside.
If you think about this landing, it doesn't have a lot of wall space to start with, but what it does have is 4 doors (3 bedrooms and a bathroom) and the opening to the stair well. That's a huge percentage of the wall space that's actually taken up by doors. Doors that could be painted a gorgeous color like this HGTV by Sherwin Williams Web Gray paint from Lowe's.
I've had these doors painted for about 2 weeks now, and they take my breath away every time I see them. They're such a deep, rich color that give so much warmth to this space. Something that a standard builder's beige or white could never do!
And when you think about how little paint you need to cover a door and how quickly you can accomplish it, I really don't understand why doors everywhere aren't painted! It totally transforms the entire space!
And while we obviously did a little more here than just paint the doors, none of it would have had any of the desired effect if my doors were still beige. The deep gray felt like the crowning piece on the whole space.
I bought a gallon of the Web Gray paint at Lowe's because I knew that at a minimum I wanted to paint these 4 doors, our basement door and our French doors in the living room. I just loved the color that much! In fact, I loved it enough that I also painted the inside of the doors to both of my kids' rooms!
You can see that our basement door started as the same builder's beige as all the other doors in the house.
We had decorated the rest of the first floor, but this basement door just stuck out like a sore thumb! Look at all the wall space it covers! So why did we not paint it sooner when it could have looked this gorgeous??
I really feel like there should be a rush at Lowe's for this Web Gray paint now. It is my new favorite! The paint was extremely affordable, $26/gallon, and even after painting all of those doors… I still have well over half a gallon left! That's a pretty amazing impact for less than $13 worth of paint! Depending on what kind of finish and brand of paint you're getting, the prices at Lowe's start at $17.98/gallon!
If you happen to lean on the wishy washy side, no worries! Lowe's has a Love Your Paint guarantee, and you can simply return your unused portion in the original container to either replace it with a comparable paint or get your money back depending on the store policy. Pretty low-risk, eh??
Plus, I'm not complaining about that fact that it only takes me about 20-30 minutes for one coat on a door. I'm telling you, an easy project, guys and it left me with a space that I absolutely adore!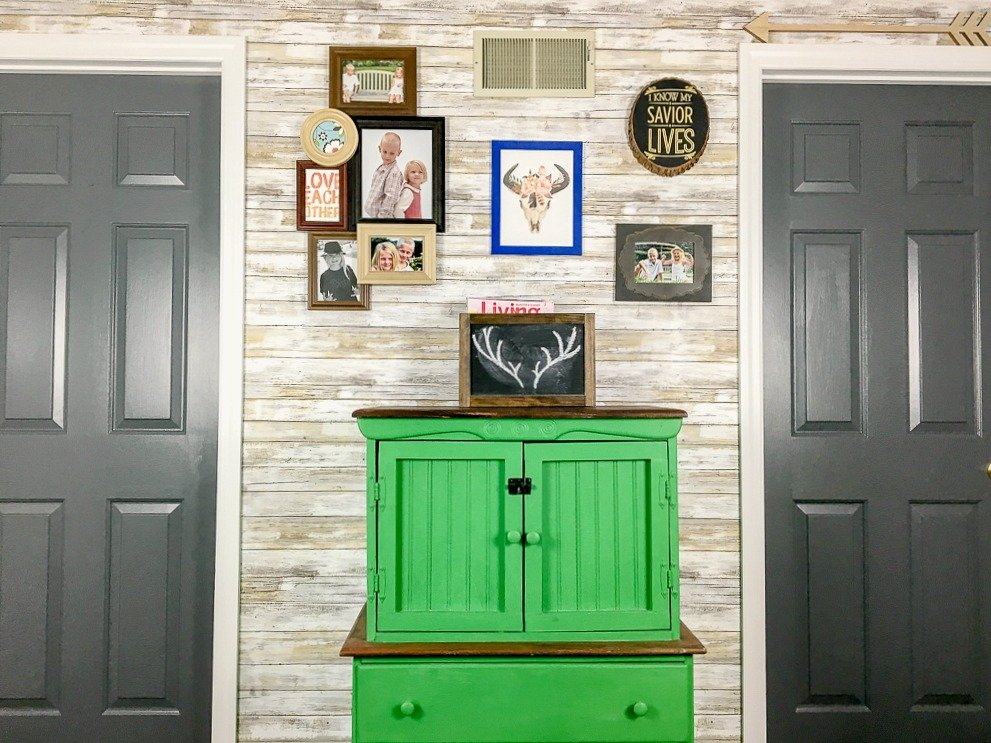 While you're there, don't forget to pick up your other supplies. I highly recommend an angled brush. It's pretty much the only brush I'll use anymore and is perfect for getting into all the grooves on your door panels.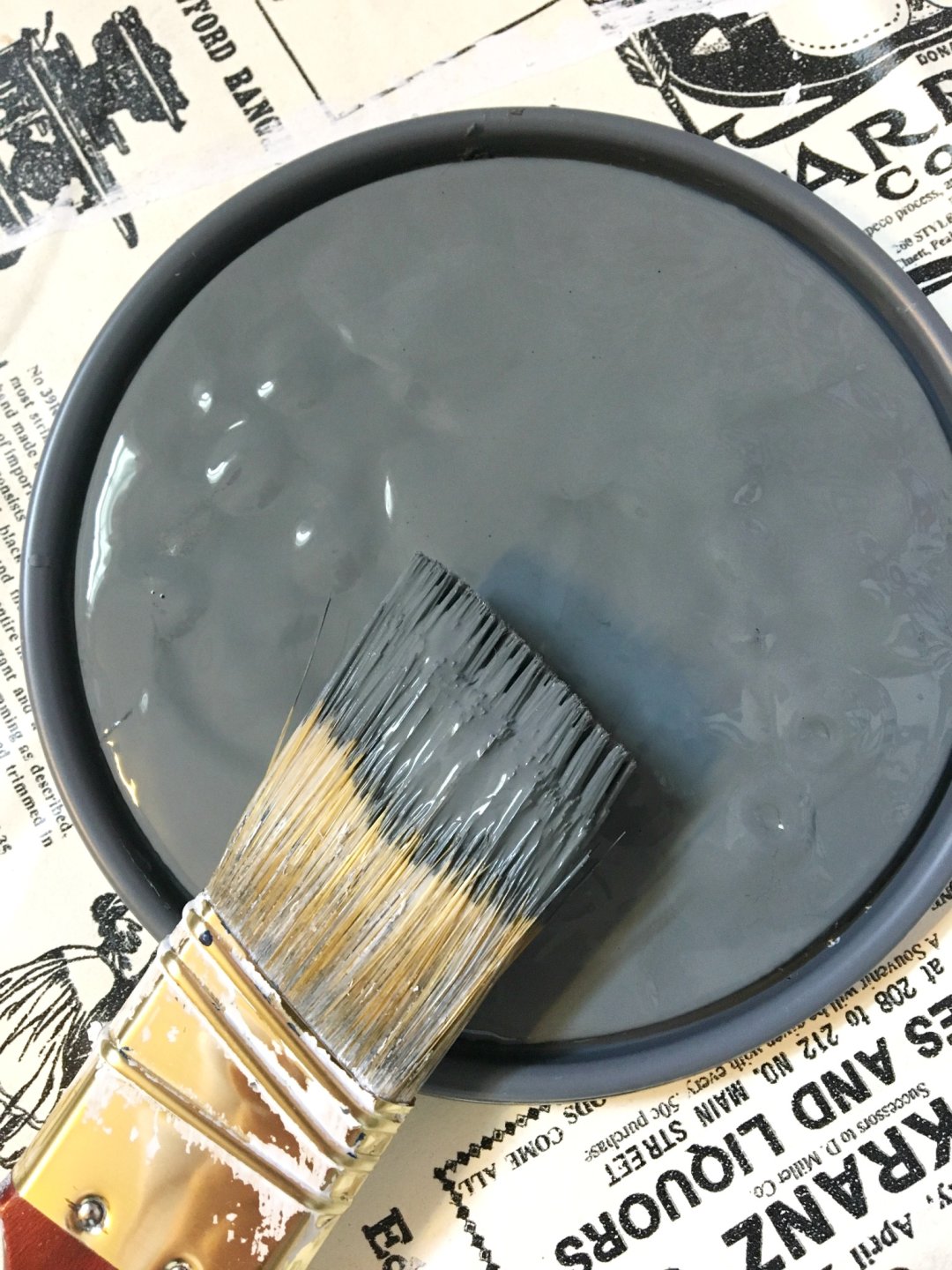 I also needed some spackle while I was there to fill in some nail holes and dings that were left in the doors. I found this 3M Patch Plus Primer in the paint section at Lowe's and thought I'd try it because I'm a fan of anything that makes my job 3 times faster. I loved it! It went on so smoothly that I didn't even have to sand afterwards and it filled the spots quickly. After the paint dried, you can't even tell where I applied it! I actually had my husband stop the next day on his lunch break to pick me up another container of it, because I want to make sure I never run out!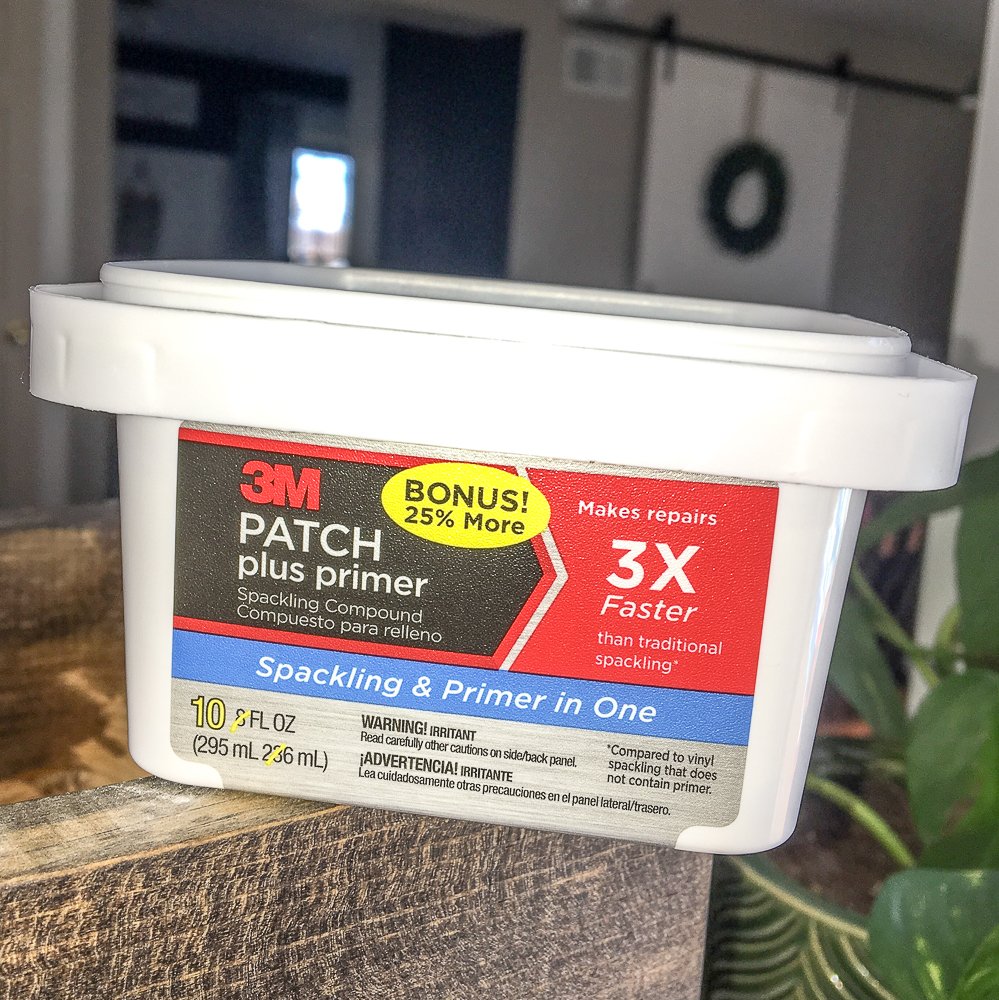 Be sure to check out these related posts:
Faux Wood Slat Wall– the other obvious change we made to this landing, is adding this faux wood slat wall! It changed the entire look of the space and accented the gray doors perfectly!
Plank TV Wall– Once we painted the basement door this gorgeous web gray, it didn't really blend well with anything else in the living room. We needed something else that color to tie the room together. We also wanted to create some depth to the wall that our TV was on. We built a wood plank wall to mount our TV on and painted it this same color. The colors blend perfectly now!
Be sure to pin this post so the next time you're at Lowe's you can find the paint color easily!
Save
Save
Save
Save