I'm so excited to share today's post with you, because the timing is perfect for you to recreate this look for your own home this summer! I partnered with Lowe's to share some easy tips that show you how to create an affordable outdoor entertaining space in just one afternoon!
Since last summer, this is what our deck has looked like:
My gosh, people, we couldn't even get the seat cushions on right!! Aside from that, though, it's just blah. There's no life to it. Nothing that made us, or guests, want to sit and hang out.
So the table, grill and smoker all were relocated to the adjoining brick patio. Honestly, that's where they should have been to begin with, so the spaces make much more sense now.
We unscrewed the hose holder that you see in the background beside the smoker and just flipped that around to the other side of the deck railing. This is really much more logical too. Now it's behind the garage door and easier access to use it on the patio or yard rather than having to climb up on the deck to use it.
Once we started thinking about our spaces in terms of how we wanted to use them, it all just started flowing together on its own! We made one quick trip to Lowe's, came home and set up our purchases and now we love our new space!
Doesn't that look so much more inviting?! Before, our entire deck was taken up with the picnic table and renovation scraps that just got dumped there and never removed.
Now we have an outdoor entertaining space that's actually worthy of company!
How to Create an Inviting Outdoor Space:
Plan your spaces with the purpose in mind. Are you trying to create more of a living room feel? An outdoor eating area? Or do you have a large enough area to combine the two? Figure out what the purpose is so that you know how much space you have for each before you head to Lowe's.
I knew I wanted an eating area in that left corner of our deck. I got on the Lowe's website ahead of time to look at my options for high-top tables. From there I took the measurements and went out to this exact spot to do a little mock-up to make sure it would fit. Nothing can be more frustrating than putting together furniture only to have it not fit your space (ask me how I know that!). I now measure everything ahead of time- including taking into account having to slide chairs in and out- and it makes the entire shopping experience much more pleasant!
The Lowe's Patio Guide made it easy for my husband and I to decide on a plan before we ever set foot in a store. We just sat in our comfy living room and scrolled through to help us make sure we were on the same page, decide on a set budget and know ahead of time what we were looking for once we arrived at the store.
Be prepared before you head to the store. If you are DIY-ers like us, know ahead of time what you will be building yourself and what you need supplies for. We have teens at our house quite a bit, and I knew I wanted a long, padded bench for them to hang out on. We had enough pressure-treated wood left over from a tree fort we disassembled last year, but I knew I would have to purchase the paint and cushions on our trip to Lowe's.
We measured the space we were working with before we left (ours was a very specific space to fit between an outlet and the hose connection on the side of our house). This way, when we arrived at Lowe's, I could go straight to the outdoor cushions and find two that would fit the yet-to-be-built bench perfectly! I also grabbed a quart of exterior white paint to finish off my bench.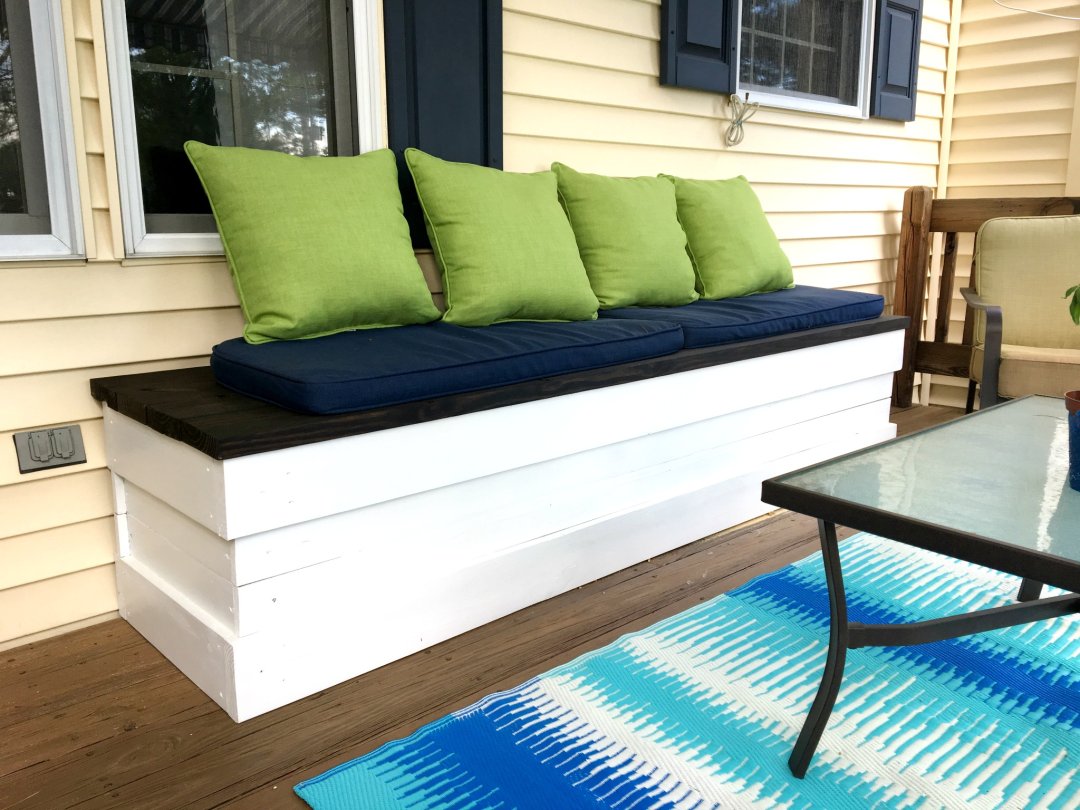 (click on the links in the picture to see the products we bought!)
Think outside of the box. Even though you are looking to furnish your outdoor space, don't feel confined to the Garden section while you're shopping Lowe's. While I loved some of the side tables they had in the garden section, they weren't in my budget this year. Instead, I knew I had this trash can at home that wasn't being used. I flipped it upside-down, purchased a piece of round wood from the lumber department and stained and sealed that with Thompson's Water Seal. It makes the perfect little side table for these chairs I already had, and cost me less than $10!
Don't be afraid of color! Even if you're someone who sticks to neutrals on the interior of your home, your outdoor entertaining space is the perfect spot to be a little more bold with your color choices! Finding this throw rug for under $30 was the perfect jumping off point for my color scheme! Plus, it's nylon so I can hose it down if it ever gets dirty!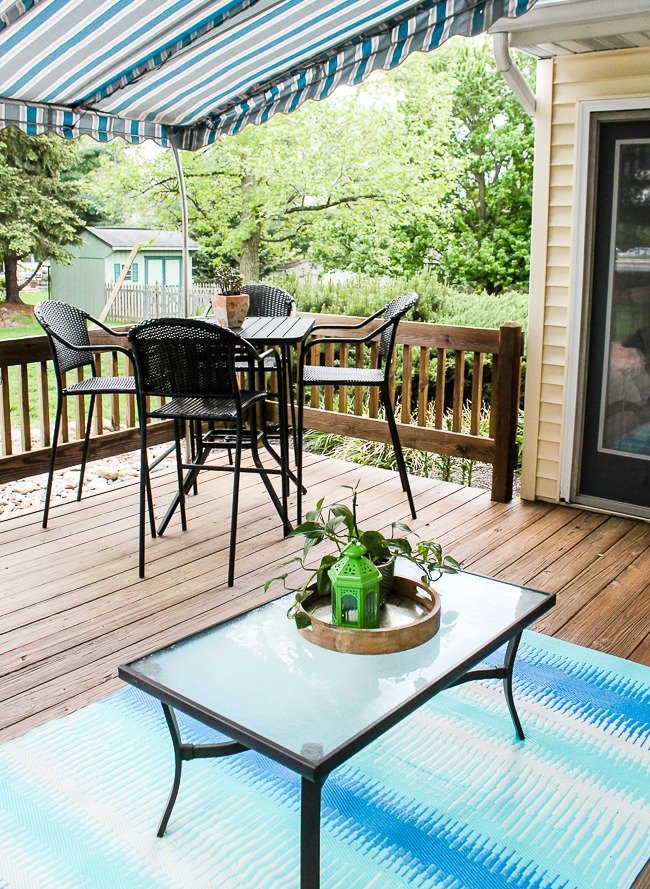 (click on the links in the picture to see the products we bought!)
Add lots of plants and greenery! I actually don't have a lot of plants inside my home, but I try to add them everywhere I can outside! I could walk around all day in the garden center just looking at all of the gorgeous flowers! I picked up so many this year and soon I'm hoping they will be blooming and cascading down the sides of the planters! Patience, my friends!
Not bad for only one trip to Lowe's and a pretty small budget! Not only are we ready for summer entertaining now, but we're in the mood too with our fun furnishings and colors!
This is a sponsored post written by me on behalf of Lowe's.
Save
Save