It's been 20 years now since I moved out of my parents' house, and the only time I really get a strong urge to move back is during the holiday season. To be a kid, sitting at the kitchen table working on homework while my mom baked in the kitchen and my dad watched a Christmas movie in the living room… chokes me up just to think about.
As in, I literally have to pause for a second, because I'm crying now. I'm sure it's a scene that played out in many homes across our town and beyond, but it still feels so special and intimate looking back on it as an adult with my own kids now.
I grew up watching my mom in the kitchen, a woman who had very little money but lots of creativity. There were 8 of us living in a small duplex, often paycheck to paycheck, but it felt like we ate better than anybody else I knew! She could mix and combine and "add a pinch of this" and "a smidge of that", and we enjoyed every last bite.
I also grew up living about 5 minutes away from Hershey, PA and smelling chocolate every time I walked outside! It's no wonder, given our close proximity to Chocolatetown, that we love to bake! December was amazing at our house!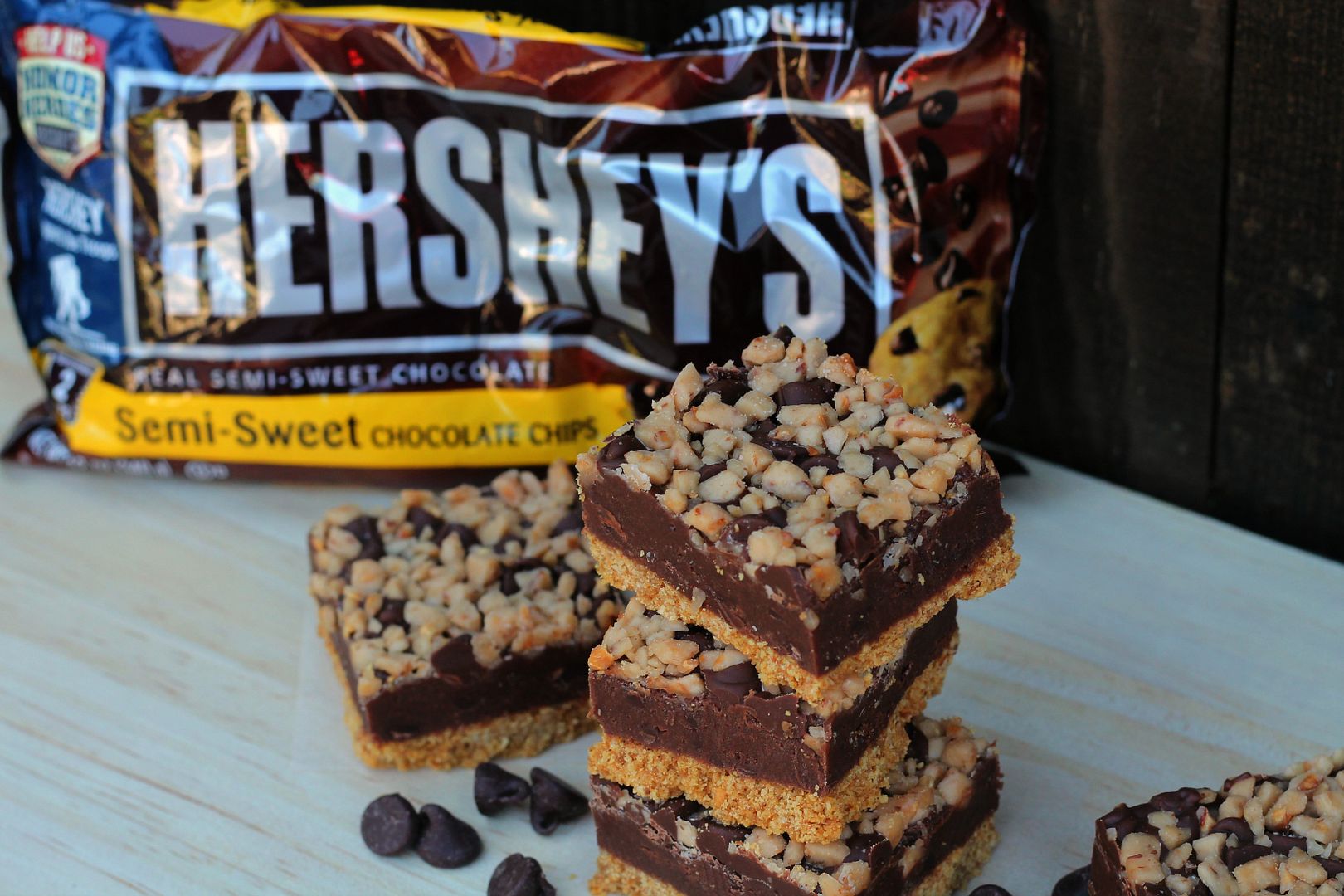 SO many different kinds of cookies and tins lined up on every available surface ready to be filled for gifts. We had some lucky teachers! It was like an actual production line at our house and finding a taste tester was never an issue.
As a mom myself now, I adore how my kids love helping in the kitchen! We try new recipes from cookbooks, we recreate recipes that have been passed down through the family, and sometimes we try our hand at creating brand new recipes!
This recipe for Hershey's Toffee Fudge Bars is one that we created by combining all of our favorites! My daughter lives by the motto "the more chocolate, the better!". My son always goes for anything with a graham cracker. My husband's favorite dessert has a layer of Heath Milk Chocolate Toffee Bits and Hershey's Semi-Sweet Chocolate Chips. And, my word, guys, I am a sucker for fudge. The holiday season just screams fudge to me!
This recipe took a little bit of tweaking (nobody complained that I had to make it a few times!), to get the chocolate layer the right consistency to hold up to the consistency of a layer bar but still be a close cousin to your traditional fudge recipe. I think we've hit on a winner, though, and it will definitely be added to our master list of holiday baking that will be passed down to the next generation!
Fudge Toffee Bars
These Fudge Toffee Bars are made with Hershey's Chocolate Chips and Heath Toffee Bits and will become a new tradition in your family!
3/4 cup butter (melted)
2 1/4 cups graham cracker crumbs
1 cup sugar
1 can (5 oz. evaporated milk)
1/4 cup butter (softened)
1 bag (10.5 oz mini marshmallows)
2 cups Hershey's Semi-Sweet Chocolate Chips
1 cup Heath Milk Chocolate Toffee Bits
1 cup Hershey's Milk Chocolate Chips OR Hershey's Semi-Sweet Chocolate Chips
For Crust: Mix melted butter and graham cracker crumbs. Press on bottom of foil-lined 13×9 pan and set aside.
For Filling: In a large saucepan, combine sugar, evaporated milk, softened butter and marshmallows. Heat over medium heat until mixture boils, stirring very frequently. Continue to boil for 5 minutes, stirring constantly. Add the Hershey's Semi-Sweet Chocolate Chips, stir until completely melted.
Pour immediately over prepared crust and spread until smooth. Sprinkle Heath Milk Chocolate Toffee Bits and Hershey's Milk Chocolate Chips over filling and press lightly. Refrigerate until firm, about 2 hours. Cut into bars and store in the refrigerator.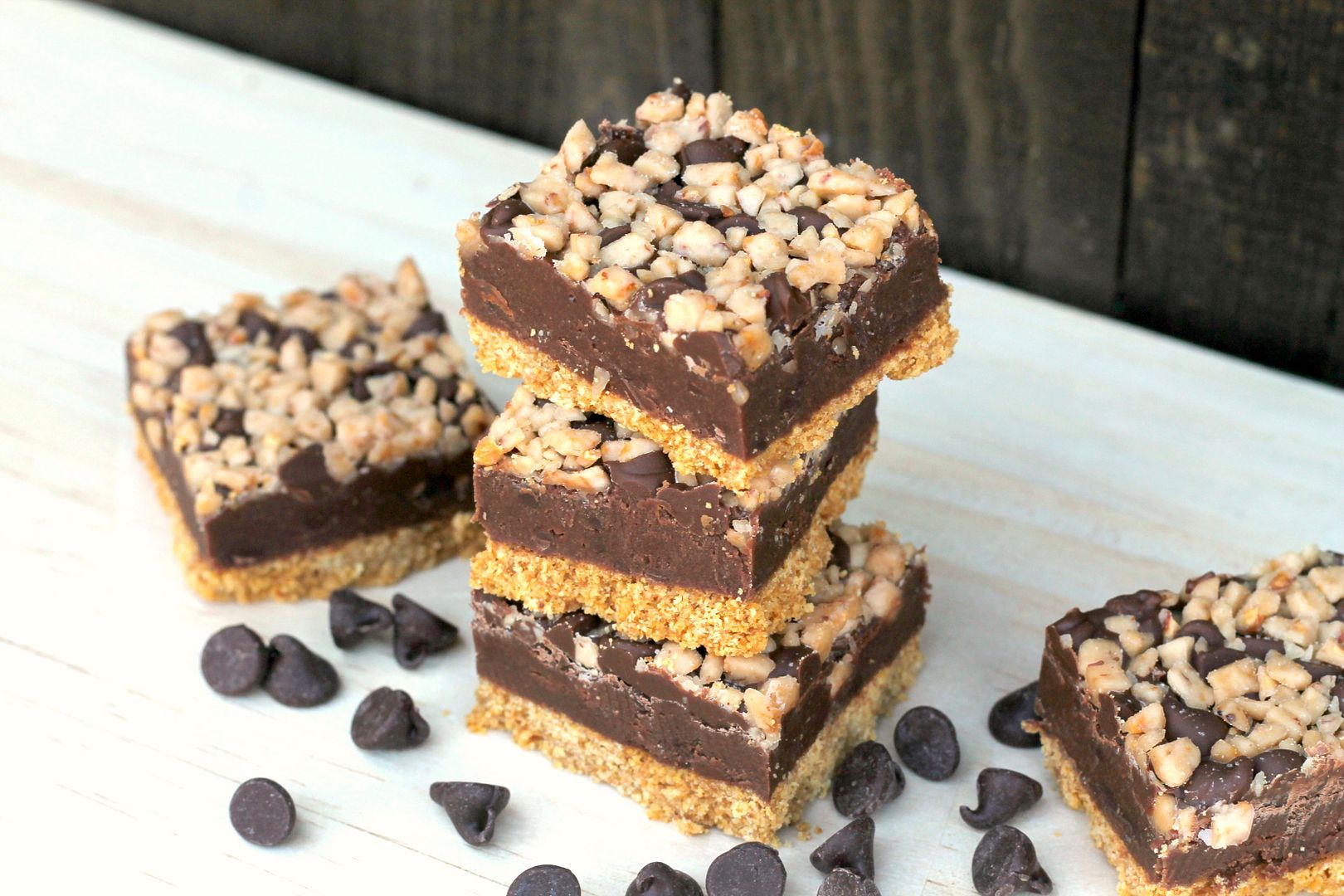 Save
Save