My parents have 6 kids and somehow my Mom manages to remember each of our little food likes and dislikes. I think she's got some kind of cart catalog in her head that helps her keep track through the years.
I'm not complaining, though, because every time she makes potato salad, I get a little container that she spooned out before she put the eggs in, she always made the sauerkraut in a separate pan for New Year's Day and for Easter, I always got my share of Cadbury Crème Eggs.
Oh my gracious, I would gobble these up as a kid! I'd trade my siblings just trying to get more Cadbury Crème Eggs! NEVER.ENOUGH.
And now that I'm a mom myself, Easter is one of my favorite holidays because we host for the entire extended family and my daughter is old enough now that she can help in the kitchen!
If the recipes she's helping with are as cute as these Easter bunny butt cupcakes, she's even more into it!
These are simple enough for her, at age 12, to do pretty much from start to finish! But I love that there are enough steps that I can almost set it up like an assembly line and be right in there with her.
Do you even know how many stories are shared while my daughter and I work in the kitchen together?! And projects like this are great, because we're not running back and forth to the stove and nothing's getting burnt. We're just sitting together at the table making these adorable little guys and maybe sneaking a Cadbury Crème Egg or two.
Hey, it's tradition!!
Supplies:
a batch of baked cupcakes
an equal number of Cadbury Crème

Eggs

frosting
flaked coconut
red and brown food coloring
Directions: Frost your cupcakes in a ring, leaving the center of the cupcake without frosting. This will leave a space for your "bunny" to sit down in.
Pour your coconut into a bowl and then gently press your frosted cupcake into the coconut. Use your finger if you need to to make sure the hole in the center is still opened.
Place the more tapered end of your Cadbury Crème Egg into the hold in the center of your cupcake. Press it down in firmly. You want the more rounded end to be sticking up in the air as your bunny's butt.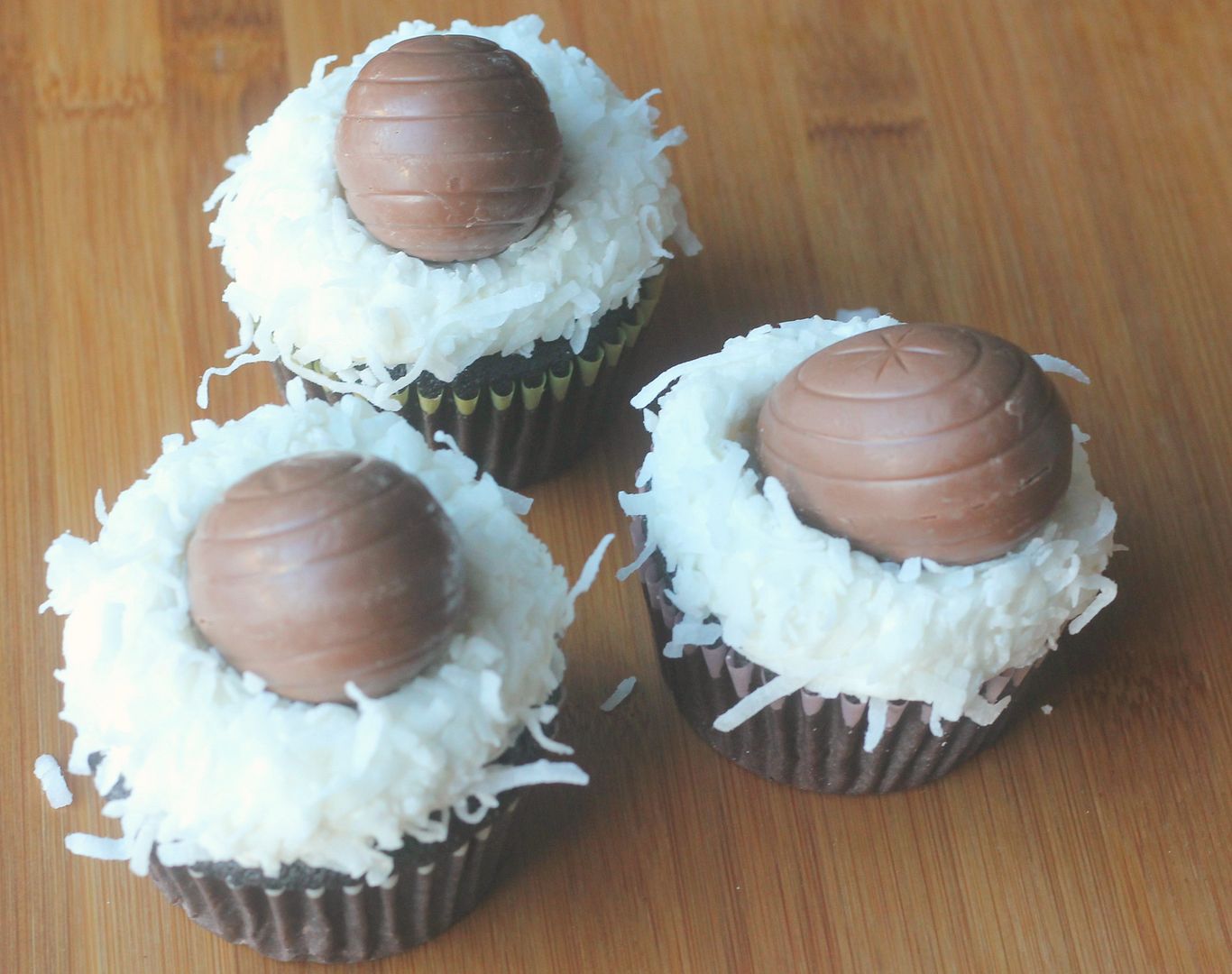 Take a very small portion of your frosting and tint brown. Do the same with a separate portion of frosting except tint it pink (I would put a toothpick in your red food coloring to just get a teeny tiny bit to add to your frosting).
I used tip 2 for the pink and tip 10 for the brown in sandwich baggies to add my feet and tail. Just look at the bunny burrowing down into that frosting!
This is such a good way to get kids in the kitchen and contributing to the family holidays! Plus, the next day during your Easter celebrations, the kids will gobble these right up! Adults (and me!) too, but who's keeping track, right?
If you love baking projects with your kids, check out my list of the best baking subscription boxes, which includes plenty of kid friendly ideas!
Save