One of my favorite parts of summer is all of the fresh produce that is readily available! It doesn't take much to bring out the rich flavor of fresh fruits and vegetables- a little olive oil and some salt and pepper are all you need to bring out that natural goodness. I was thrilled to partner with Bertolli to share this easy and delicious recipe for Chicken Potato and Kumquat Kebabs.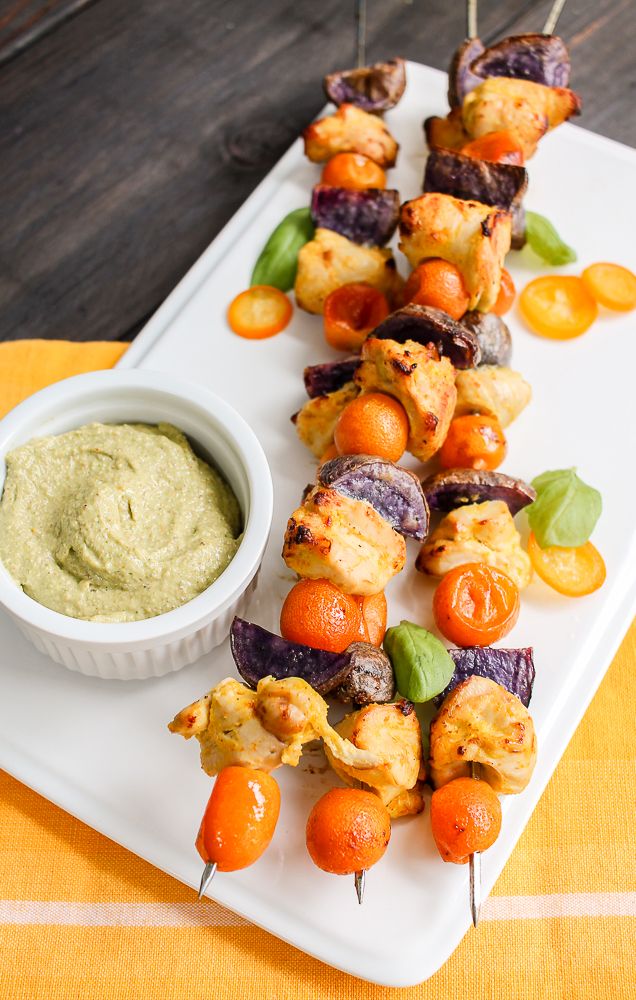 I know you're probably all thinking… "chicken and potato shish kebabs… how original". Bear with me, though, because these are original, are delicious and will have you trying a new fruit that you might not have ever tried before! At least, that was the case for me when it came to kumquats!
I'm not quite sure what I was expecting when I bit into my first kumquat last week, but I was pleasantly surprised. It had the texture of a cherry tomato but was surprising flavor- the peel was sweet but the inside was tart. Like a lot of other citrus fruits, you could just tell that it would pair well with chicken or seafood.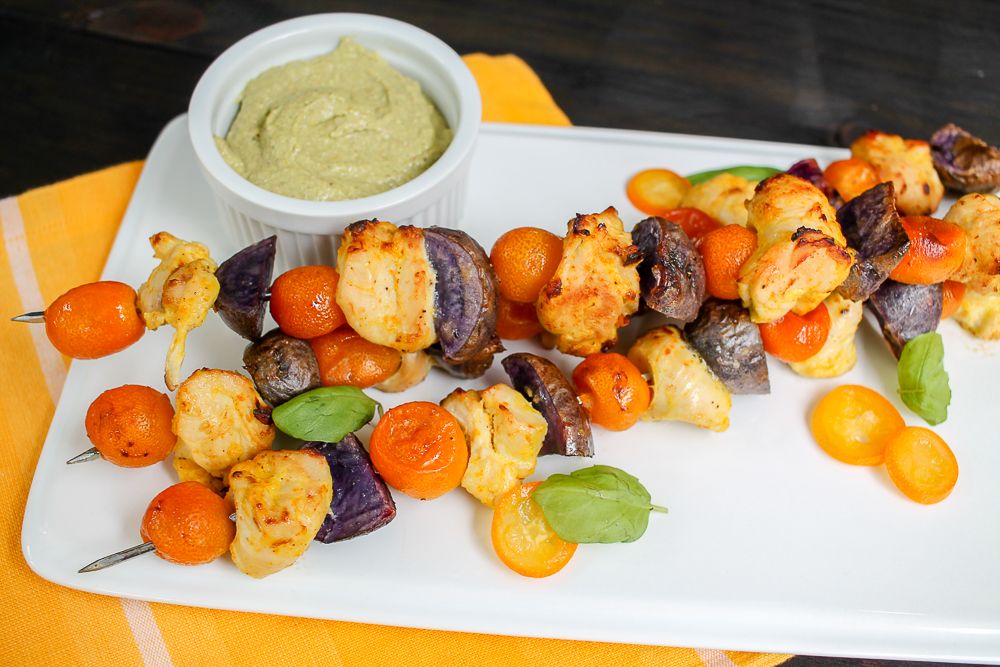 I decided to try the kumquats with chicken and purple potatoes because aside from how gorgeous they look with the deep colors, the purple potatoes are incredibly high in antioxidants compared to potatoes with a lighter peel color.
And my word, friends, if you haven't had a purple potato roasted with a drizzle of olive oil and a sprinkle of sea salt then you need to stop what you're doing and go try this. It's amazingly simple and delicious! I could eat them like candy!
But for this recipe, we went a step further to make it an entire meal! It's still incredibly simple, you hardly need any ingredients and you'll have a complete meal in one dish.
Chicken, Potato and Kumquat Kebabs
Ingredients:
12-14 oz. kumquats
1 ¼ cup Bertolli Organic Extra Virgin Olive Oil + extra for drizzle
Water
Salt and pepper to taste
½ cup fresh basil leaves
½ cup pecans
6-8 purple potatoes
¾ lb. chicken tenders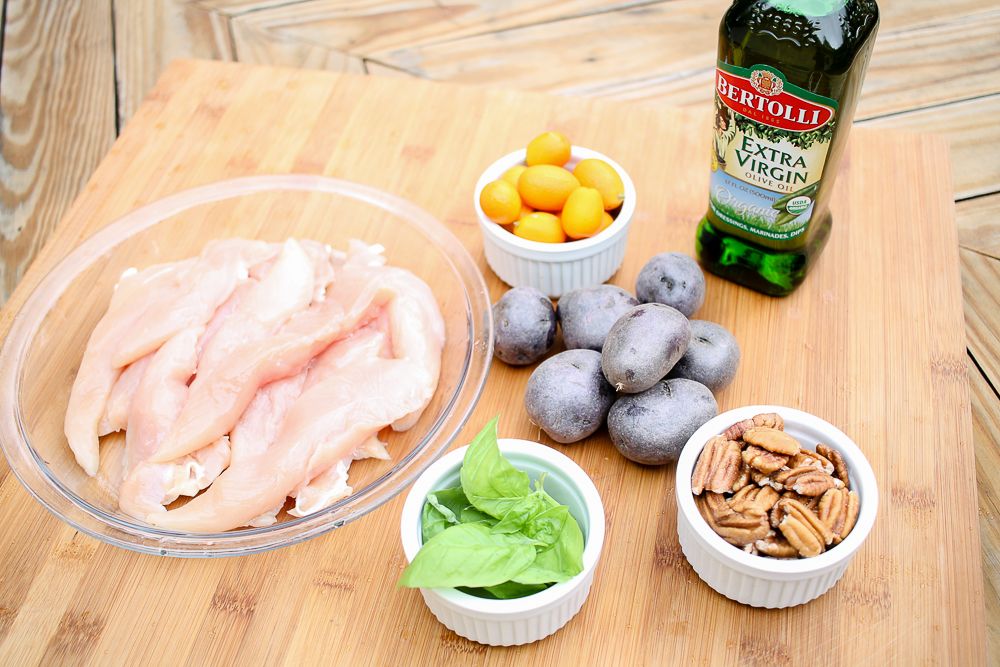 Directions:
Set aside about 15 kumquats to be used on the shish kebabs. In a blender or food processor, blend the remaining kumquats until smooth.
For the marinade: Using about 2/3 of the pureed kumquats (roughly 4 oz.), set the blender on low and pour in a slow, steady stream of ½ cup Bertolli Olive Oil until it is fully incorporated. Blend in ¼ cup of water in the same way until it is also fully incorporated. Add salt and pepper to taste.
Cut chicken into 1 ½" pieces and marinate in the kumquat marinade while you prepare the rest of the ingredients. You can also do this ahead of time to give your chicken longer to marinate.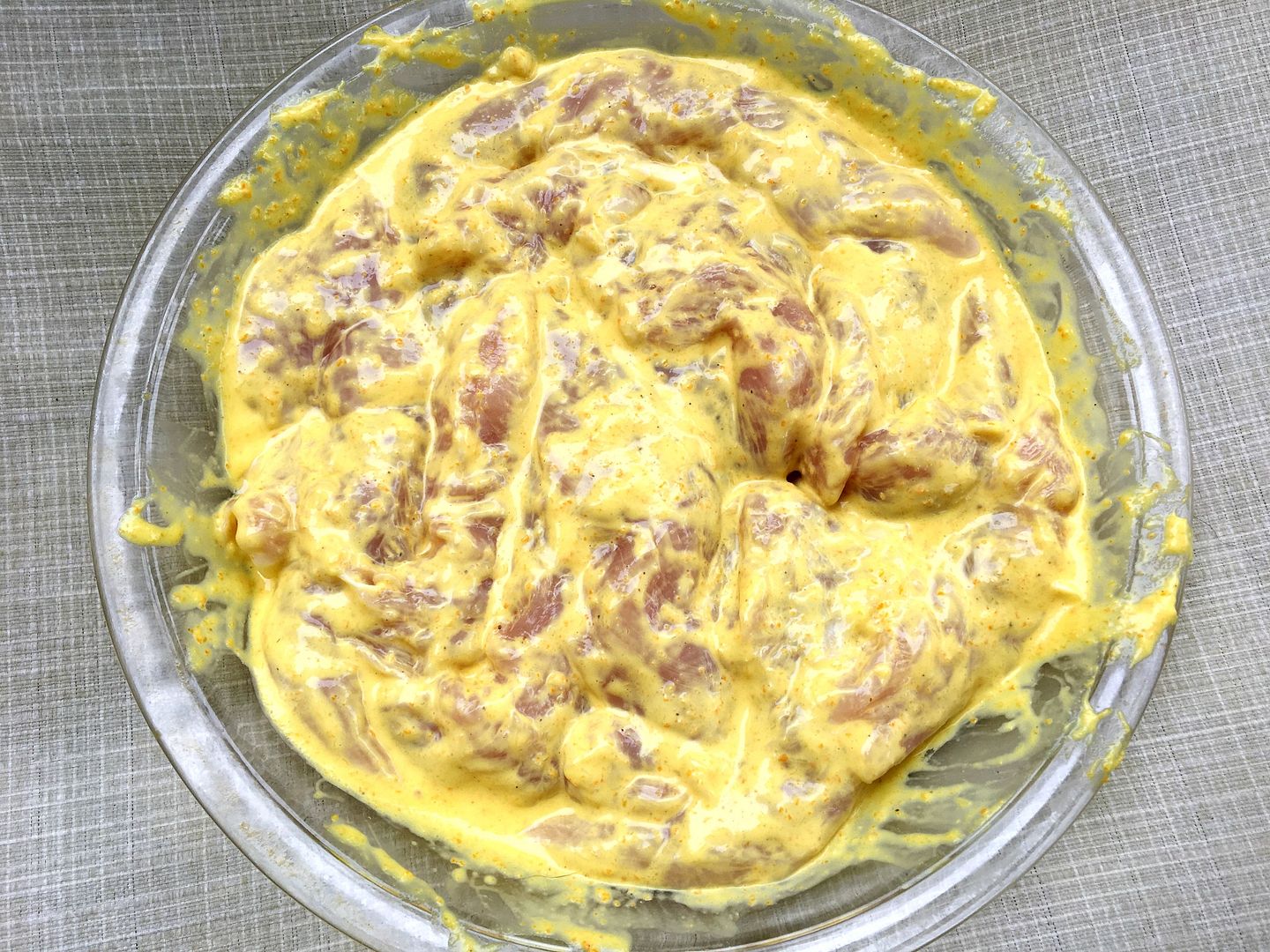 For the dipping sauce: using the remaining pureed kumquats (roughly 2 oz.), add them back to the blender and then add the basil and pecans and puree until it is a smooth paste. With the blender on low, pour in a slow, steady stream of ¾ cup Bertolli olive oil. Once it is fully incorporated, you can add about ¼ cup of water to thin it out until it reaches the consistency you desire. Add salt and pepper to taste. Set in refrigerator until ready to use.
Cut potatoes into halves or quarters depending on size. Drizzle the potatoes were more olive oil and sprinkle with salt and pepper. I use sea salt but you can also use table salt.
Once your chicken is done marinating, thread your chicken, kumquats and potatoes onto your skewers.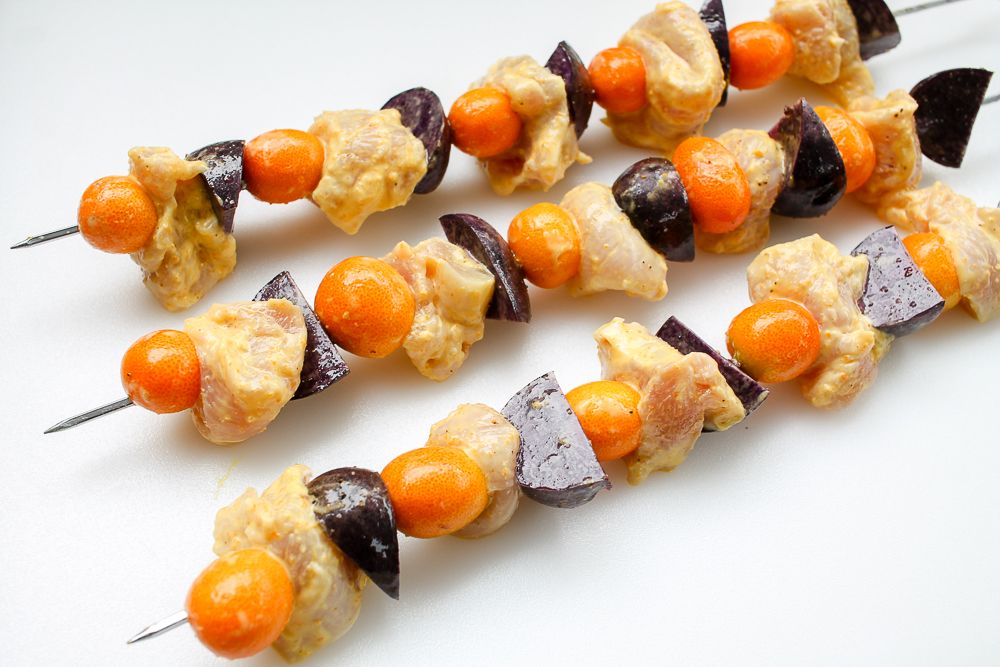 Broil in the oven for 10 minutes then flip them and broil for an additional 7 minutes.
Serve with the dipping sauce and enjoy!
The kumquat marinade on the chicken caramelizes as it broils and gives it just the right amount of sweetness. It's the perfect compliment to the potatoes that are roasted in olive oil and sea salt! You don't need a lot of ingredients for a delicious meal… just the right ones to bring out the natural flavors of the food is perfection!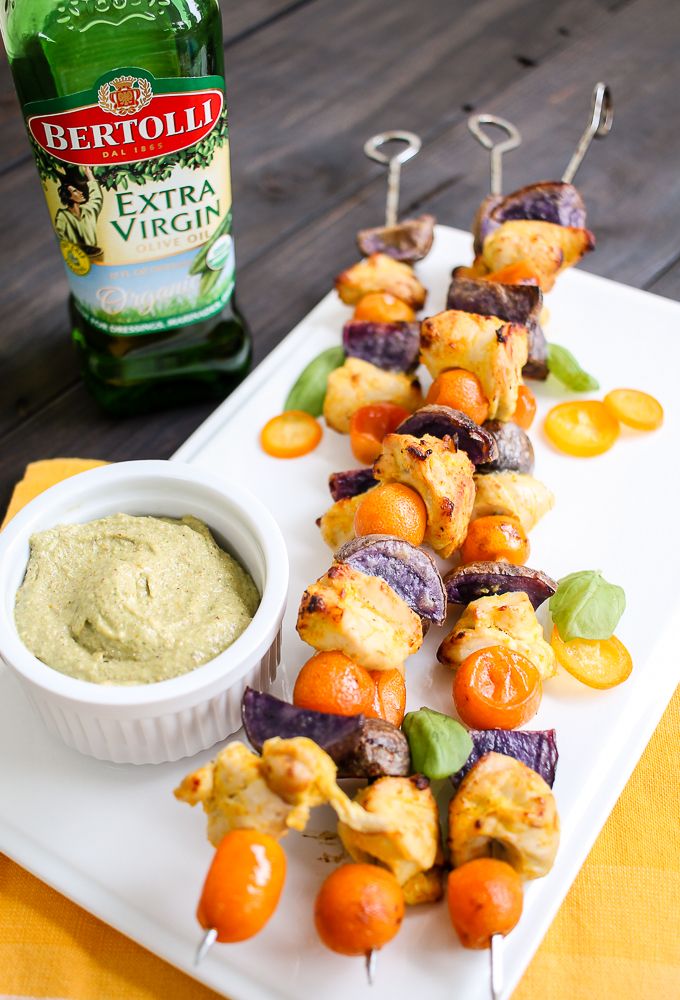 This is a sponsored conversation written by me on behalf of Bertolli. The opinions and text are all mine.
Save